HOW CAN YOUR BUSINESS BENEFIT FROM HAVING AN APP? | 10 FACTS
Often times making decisions for our businesses tend to be more daunting than large life decisions. They carry with them the same long term weight and consequences which not only affect our careers, but bleed into our private life.
In this same way, deciding to invest time, money and effort into an app for your business is the same as investing in an asset for your business, as this is essentially what you are doing.
Business has changed leaps and bounds in the past decade and the app market has completely exploded and changed the game for entrepreneurs. The use of mobile devices has increased insurmountably. For instance, in 2018, 52,2% of all website traffic was from mobile devices (source). This shows how immensely powerful it can be to take advantage of mobile as a platform. Furthermore, most people use apps 1-10 times daily at the very least.
"The chart above speaks for itself in showing the potential to found in connecting with your audience through apps, and this does not only go for retailers or restaurants, all businesses can find a way to innovate and generate value from their own mobile app.


There's an entrepreneur right now, scared to death, making excuses, saying, 'It's not the right time just yet.' There's no such thing as a good time. I started an apparel-manufacturing business in the tech-boom years. I mean, come on. Get out of your garage and go take a chance and start your business.
Kevin Plank, Under Armour CEO"
Here's how any business can benefit from having their own mobile app.
#1 GREATER INTERNAL EFFICIENCY (INTERNAL APPS)
If you have not yet found having an app to be valuable to your customers or clients, have you thought about the value an app can bring to your employees? Introducing an app which can streamline your procedures and efficiency will not only result in more productivity but also happier staff and in turn, happier clients.
For example, let's say you own a logistics or transport business. You could introduce an app for your drivers where they are able to log their trips, note their mileage, inspections, deliveries, and even a GPS function. This way, you will eliminate tedious admin work from logbooks, trip sheets, delivery notes and more – all in real-time while making your employees' work easier and more fruitful.

Other ways of improving internal efficiency are by introducing an app where employees can request leave, see payslips, tax, company policies and more.
#2 YOU WILL HAVE A DIRECT MARKETING CHANNEL
When your clients or customers download your app, you have an open and direct channel of communication with them. You will be able to notify your most valuable and "most-likely-to-convert" clients and customers as soon as you have offers, new products or services, company changes and more.
This way, you will not have to rely on hoping your marketing efforts are seen by chance.

This, however, is a marketing channel that needs to be used with careful strategy since users are easily able to block notifications should your marketing come across as spammy. This can be seen as a high-risk, high-reward opportunity but extremely worthwhile.
#3 MARKET TO YOUR CUSTOMERS PERSONALLY
One of the perks of having an app is the opportunity to gather valuable information from your users which can allow you to plan and create more relevant and profitable marketing strategies. Gathering data from your users will allow you to target various dimensions such as their geographic location, age, interests, previous orders, or whatever information you request or have access to.

This marketing approach results in higher conversion rates and better customer retention.
#4 BETTER CUSTOMER MANAGEMENT
People like to control their personal information. By introducing an app to your customers, you will not only please the masses by offering the opportunity for them to control their own information, but you will also be creating a system whereby clients manage their information for you.

Customer management will become effortless as you require users to fill out their profiles reducing the need for the admin of processing new clients.
Users will also build more trust when they are able to see the same information about themselves that you see.
#5 GREATER CUSTOMER SUPPORT
While it is very tantalizing to think that an app will provide you with a direct marketing channel, it provides you with something equally valuable – giving your users a direct channel to contact you. When you provide your users with a "Support" or "Chat" feature, you will be able to see to your user's problems and queries faster and more efficiently.

We all know that landing a client is one thing, but keeping them is a whole other ball game. One way to accomplish a better client retention rate is by providing them with the support that they require to continue being your client.
#6 MAKE YOUR BUSINESS MORE APPROACHABLE AND "USER-FRIENDLY"
If your business doesn't fall into a category of the obvious contenders for an app such as a retailer or food shop, you can create better awareness about your industry and make it easier for people to become customers.

Let's say you are a small loan provider. Having an app with ample information and easy steps to becoming a client will make users a lot more comfortable with taking to the step to finally converting and becoming a profitable customer. This same principle will also be applicable to other businesses such as insurance providers, contractors, or even non-profit organizations such as charities and churches.

The benefit of moving forward with technology and investing in an app should not be underestimated as the use of apps are the present and future. See below statistics and forecast for mobile app downloads.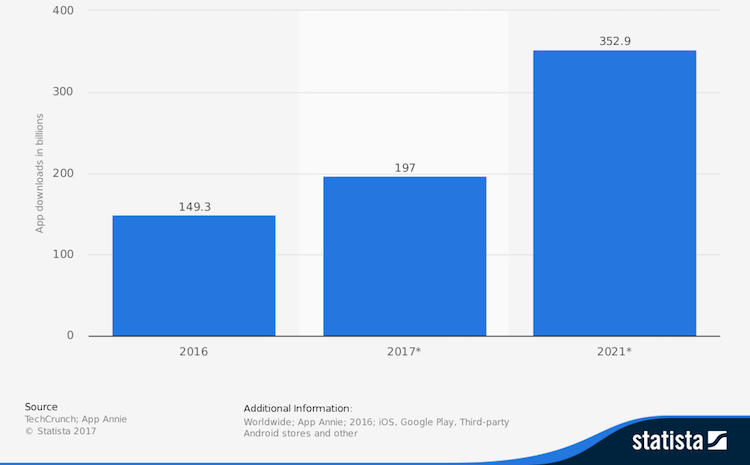 #7 INCREASED VISIBILITY & BRAND RECOGNITION
Step 1 is usually "build a business", many don't make it. Step 2 – "build a brand". This is often not by choice, but due to the failure of recognizing the importance of thereof. Being able to get to the point of building a brand is not easy. It means becoming a recognizable, authoritative, and trusted name. Investing in an app is another excellent tool that can help you get there.
Offering your audience a suite of tools in order to make their business with you seamless and supported builds loyalty leading to growth and publicity. Introducing an app to your users which ties in with your website and marketing efforts creates an air of authority and show a strong foundation to your audience. People inherently trust names which they can see have had work and effort put into – this is what makes them more willing to return this favor.
#8 ADDED CUSTOMER VALUE
No business can afford to provide all the value to their customers they wished they could. Apps have changed the way we are able to interact with clients and customers. Mobile apps have the profound ability to provide both the user and app provider with maximum value while requiring minimal input.
What we mean by this is that you are able to make your users' experience while using your app better by making them feel valued and providing them with benefits.
Examples of added customer value can include features such as:
A loyalty system – Example: Coffee shops can provide every 10th cup of coffee for free or insurance companies which provide decreased premiums for safe drivers.
Store welcome messages – You can prompt your customers to enter your store or branch by using their geographic location to notify them that they are nearby.
Booking systems
Calendar notifications
Notes features
#9 REDUCED COSTS WITH INCREASED PROFITS
Just like any other purchase, investing in an app does indeed mean you are investing in an asset. Unique and feature-rich apps do not come at a low cost, however, it is an investment that will appreciate in value when utilized to its full potential.

Once your app is up, running, and established, you have a low-cost advertising platform rich with features motivating users to convert while gaining new leads.
#10 MEASURABLE PERFORMANCE
Many traditional advertising methods such as radio, television, billboards and even some web marketing efforts are not measurable and therefore there is no way to truly know what the impact of your marketing efforts are.

Using an app as a means to gain leads, leverage existing customer demographics for marketing and to advertise, and sell allows you the opportunity to see statistics for all actions taken on your app, right from the moment of download to uninstall and everything in between.
Such analytical data is invaluable and impossible to put a price tag on. You are afforded the opportunity to tweak and mold your app and modus operandi around that which actually works for your business and your intended users and audience.
IN CONCLUSION
Apps are the future, and not in the way people thought that VHS or DVD was the future. Our lives are becoming increasingly more molded around the apps we choose to use and younger generations, which are and will become the center of most business' target markets, are the driving force behind the power of apps.

Introducing an app to your business or organization, whether it is internal or external, can change the entire future of your business when executed correctly.

If you'd like to have a chat with us about how an app could benefit your business specifically, we'd love to hear from you to see how we can boost your business to the next level.
Already looking to take the next step? Read our article on how to successfully launch an app or you can get in touch with us here.
---
45 comments
---
---